About Us -
Why Health Qigong?
It is a unique sport that resonates with our motto.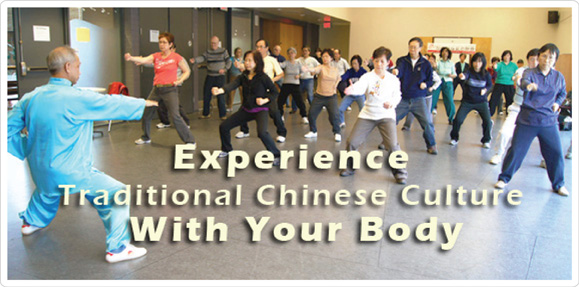 As an exercise, it is accessible to most people regardless of age.
Its gentle rhythm allows one to work the entire body - from muscles, tendons, to internal organs* - while the mind is challenged to focus, assimilate, and co-ordinate a multitude of movements. The low impact nature of this sport is thus, well suited for older adults and those suffering from arthritic pains or other physical limitations.
As a health concept, one can discover a vast array of credible knowledge on traditional Chinese health and wellness principles through the sport.
Originating as far back as the Song Dynasty (960-1279 AD)*, Health Qigong has evolved from a meditation exercise into an academic curriculum at various sports universities in China (Beijing Sport University, Shanghai University of Sport, Wuhan Institution of Physical Education, and Tsinghua University). Its core theory, which combines physical movements with principles of Chinese medicine, continues to be studied and is being modernized through empirical research in sports science. As the sport evolves, we will continue to educate ourselves on the subject of health qigong and its complimentary Chinese medical concepts. In the future, we hope to provide a platform for the discussion of the above.
As an international competitive sport, it allows us to get involved in a community beyond our local address.
Popularity of the sport is evidenced by the growing number of health qigong associations around the world, including Belgium, China, Germany, Hong Kong, Japan, Macau, Norway, Canada, and the United States. Besides competitions within this community, Health Qigong is also part of TAFISA World Sport for All Games endorsed by the International Olympic Committee. Thus, the opportunity to participate in a global sports event as an athlete is accessible for those who may think competitive sport is beyond their reach. This, in our view, is the most exciting part of the Health Qigong. We will continue to train at a competitive level and welcome others who are interested in the challenge.