2nd World Health Qigong Day
September 8, 2018.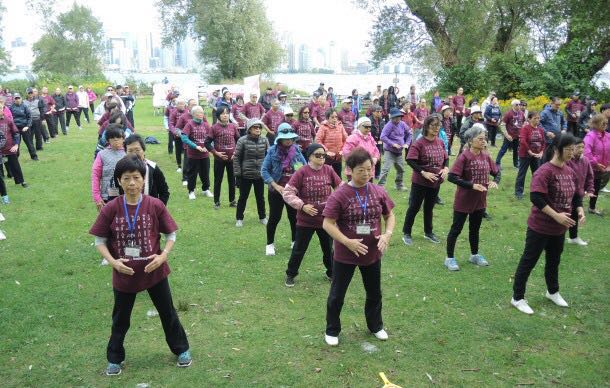 The 2nd World Health Qigong Day was held globally on September 8th, 2018 at 10:00 am, local time.   Canadian Chinese Health Qigong in order to prepare for this annual grand event, we applied for a permit from Toronto Park, Forest Recreation to hold the second World Health Qigong Day in Toronto's Centre Island. For this outdoor event, CCHQO collaborated with Carefirst to rent two school buses.   Thank you for Carefirst sending two volunteers to take care of the passengers of the school buses all the way to the Ferry Terminal at Downtown Toronto.  We invited 33 volunteers to organize this grand event. More than a dozen volunteers were arranged to welcome the students at the dock of the Centre Island and direcct them to the performance venue.

The weather suddenly changed from a hot summer day to a cold windy morning, the temperature was only 14 degrees Celsius.  Most of the students had to wear jackets, some even had to wear hats. Fortunately, the sun is still accompanied everyone. Canadian Chinese Health Qigong Organization celebrated the 2nd World Health Qigong Day in Toronto Centre Island by hosting group performance of 180 student to perform Health Qigong Ba Duan Jin and Health Qigong Yin Jin Jing with CN Tower as the background.

90 friends and their family member came to support and witness the annual event. Although the weather was cold and windy on that day, the classmates and friends who attended the event were full of energy with happy spirit.  They did not feel cold anymore during the performance of Health Qigong.  Everybody was inspired when the entertainment game program started.  The smart volunteers of all the game booths tried their best to promote their booths, and each booth had a lot of prizes, so that the participants were richly rewarded after each game. In addition to the satification, their stomach were full, because most of the prizes are food, such as chocolate cookies from Germany, tiny fish biscuits, potato chips, and some prizes are pens, etc. The games were excited and fun.  Laughter was heard constantly from the venue.
When all the programs were finished, some students even bought their bicycles and cycled in the island with their companions. Other students had a tour on the island and took beautiful pictures.

Canadian Chinese Health Qigong Organization did not disappoint the International Health Qigong Federation, the 2nd World Health Qigong Day in Toronto was a successful one.