Special Invitation-
Chinese Health Qigong Association Master Instructors from China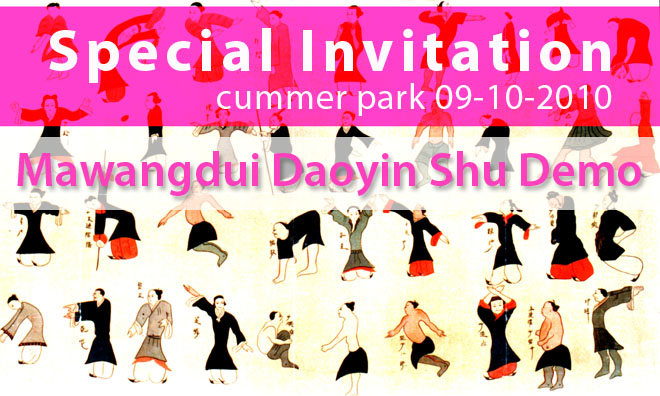 Instructor Edward Ho cordially invites all CCHQO members to attend the Mawangdui Daoyin Shu demonstration and class provided by Chinese Health Qigong Association Masters this coming Friday.

The Canada International Wellness Association (CIWCA) has invited delegates from the Chinese Health Qigong Association to Toronto to promote a new Health Qigong style - Mawangdui Daoyin Shu. This particular style is based on the Dao Yin Tu (above) unearthed in the Mawangdui Han Tomb in Changsha City dating back 2000 years. The Canadian Chinese Health Qigong Organization would like to express our deep appreciation for Ms. Su Jun Chen, director of CIWCA, who is organizing a special visit by the Health Qigong delegates from China to our Cummer Park class. This is a great opportunity for our members to see the Health Qigong Masters from China in action.

Mawangdui Daoyin Shu is mainly characterized by guidance along meridian channels and synchronicity of movements and thoughts. This health qigong style focuses on the opening and closing, ascending and descending, rotating and revolving, bending and stretching of the body, its tendons, and bones. It is a set of exercises with primitive simplicity and elegant postures designed to cultivate one's internal and external wellness.
Mawandui Daoyin Shu Demonstration Class
Location: Cummer Park Recreation Centre (6000 Leslie Street, Toronto)

Date: September 10th, 2010 (3:15-5:15pm)

Contact: 416-371-6002 (Instructor Edward Ho)